Piron Brigade

Our Freedom Their Sacrifice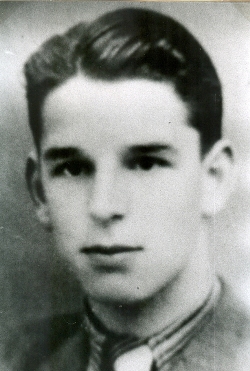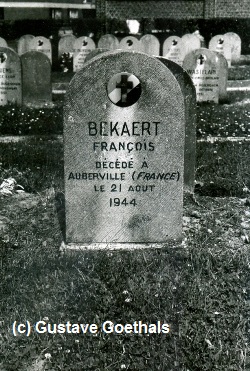 Private François BEKAERT
1st Company - 5th Platoon
Born in Auderghem on the 25th May 1922
Killed in Auberville on the 21st August 1944
Buried in Auderghem
On the 21st August 1944, after the liberation of Cabourg and Houlgate, the first Company positioned forward of its Brigade restarts its movement towards Auberville. The 5th Assault Platoon receives a mission and at the crossroads of Auberville The first section commanded by 1st Sergeant DE GROOTE comes under enemy fire, where 5 of the section die as a result (1st Sergeant DE Groote, Corporal Betbeze, privates Jadon, Beckaert, Gurhem) and additionally Lieutenant LEFEBVRE (French Resistance) who was guiding them at the time.

Another of the same section (Jean-Baptiste De Boeck) was seriously injured and evacuated back where he was treated in Cabourg by a  Dr. R. MOLES (# 1 Avenue de la Mer). But he died later from his injuries on the
23rd August 1944.


The second section commanded by Sgt EGERICKX was in support of the 1st Section and André DIVRY, a member of the 2nd Section tells about the Auberville attack:
Since February 3, 1950, in his honor, a street is named "Francis Bekaert". It is located in the city of Auderghem in the district Tenreuken.
Monument in Houlgate

Monument in Auberville