Piron Brigade

Campaigns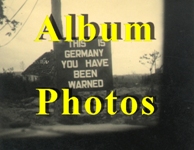 Occupation in Germany (May - December 1945)
May 15, 1945. The Brigade leaves LEERDAM at 03 o'clock and arrives in the area of BURGSTEINFURT (Germany) at 4 p.m.. The 1st Battalion occupies NEUKIRCHEN, the 3rd Battalion the area of METELEN. The 2nd Battalion will occupy HORSTMAR. The HQ of the Brigade is installed in BURGSTEINFURT. The Brigade is in support of the 34th Armoured Brigade in order to clean the combat zone which is allotted to it and to provide some guards.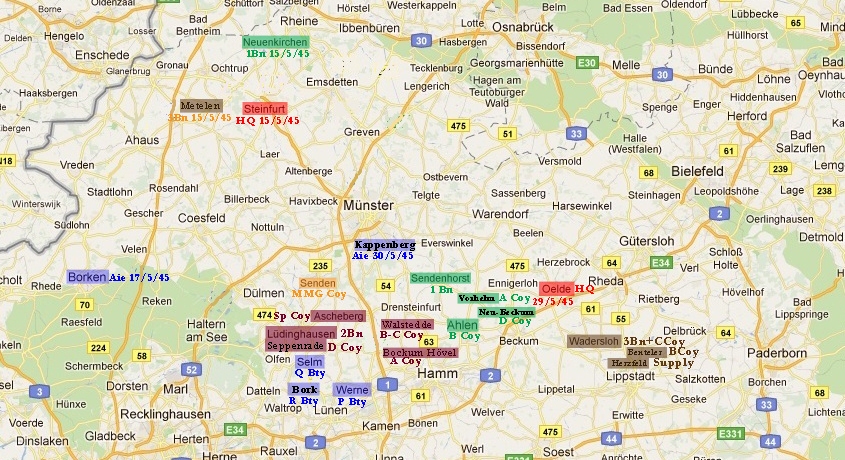 May 19, 1945. The Brigade passes directly under command of the 1st British Corps.

May 22, 1945. The Brigade passes under the command of the 3rd British Division.

May 29, 1945. The Brigade moves towards the area of BECKUM and LÜDINGHAUSEN. The HQ settles in OELDE. 1st and 3rd battalions occupy the Kreis of BECKUM with their respective staff in SENDENHORST and WADERSLOH. MMG Company settles in SENDEN in the Kreis of LÜDINGHAUSEN. The 1st Battalion also occupies VORHELM (A Coy), AHLEN (B Coy) and NEU-BECKUM (C Coy). The 3rd Battalion occupies HERZFELD (Support Coy), BENTELEER (B Coy) and WADERSLOH (C Coy). The RASC Company occupies DRENSTEINFURT.

May 30, 1945. The artillery Regiment arrives under the command of the Brigade and occupies part of the Kreis of LÜDINGHAUSEN.

June 1, 1945. The 2nd Battalion having finally left its sector close to 'S HERTOGENBOSCH (Holland), joined the Brigade and occupies the remainder of the Kreis of LÜDINGHAUSEN. A Coy occupies BOCKUM HÖVEL, the B and C Coy occupy WALDSTEDDE, the D Coy SEPPENRADE and the Support Coy occupies ASCHEBERG, DAVENSBERG and HERBERN.
So finishes the beautiful adventure of the Brigade.

Until December 15, 1945, the Belgian Brigade made occupation in Germany.

In December 1945, the " FIRST BELGIAN BRIGADE "BRIGADE PIRON", is not more…..